Articles
Our Google Apps services consist out of different subjects that can be used independently: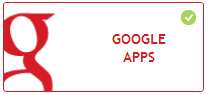 Gmail (plugin)
Google Calendar
Google Contacts
Google Drive
Gmail (plugin)
The connection with your Gmail account allows you to track incoming and outgoing email directly to Teamleader, to the according user or company. You can make this happen by using two free plugins that can be found on the Integrations/Marketplace, under Google Apps.


When setting up the Gmail-Teamleader link for the first time, you will be asked to log in using your Gmail account. After you have succesfully done so, Gmail wil ask you to grant permission to Teamleader. If you wish to continue to set up the link, you will have to accept these terms.


After acceptation you will be redirected to Teamleader. The screen displayed will also give you the possibility to sync your Google Calendar and/or your Google Contacts. To link these services, just continue reading below, we'll come back to this later on in this blog.


But before you do so, we'll continue linking your Gmail account. On the right you will see a sentence saying: 'Tip: install Teamleader integrations plugin'. This will redirect you to a page where you can download a plugin that allows you to track incoming email directly to Teamleader. After installation, there will appear a frame with multiple options, such as 'make task' or 'track email'. If your contact is unknow in the Teamleader database, you will have the option to create a new contact.


Next to incoming email you can also track your outgoing mails directly from your Gmail to your Teamleader. Note, this is a plugin that is only compatible with Google Chrome. As the other plugin, this one is also available through Integrations, but this time you have to choose 'Google Chrome'. After you have installed the plugin, a checkbox will appear below each mail you compose through Gmail, allowing you to track your outgoing email to Teamleader.


Google Calendar
This link works in two directions: when you choose to sync with Google Calendar you can select the different agenda's from which you wish to retrieve data, and you can select to which agenda you wish to export your Teamleader planning. Items that are synced from Google Agenda will appear as a gray square in Teamleader (for privacy reasons). You can convert them to meetings or tasks.


The synchronisation also works in both directions: changes that are made in Google Calendar or Teamleader will both be synchronised. This synchronisation runs in the background every half hour, or you can manually run the sync by clicking the synchronisation symbol in your Teamleader planning.


Google Contacts
The Google Contacts synchronisation is restricted to one way only: from Teamleader to your Google Contacts. A new group called "Teamleader" will be created into which all of your Teamleader contacts (not companies) will be exported. Extra info will be provided (such as a related company). Changes you make to those contacts in Google will not be synchronised to Teamleader. If you want to maintain the changes to your contacts, you have to edit them in Teamleader. This synchronisation runs every hour and can not be activated manually.
To be able to use the synchronisation, you have to have export rights activated in your account settings.


Google Drive
The Teamleader link with Google Drive is available for the modules Contacts, Companies, Projects, Meetings and Products. The link works in the same way for each one of the modules. For this example, we will only use Companies.


As soon as you have activated the link with Google Drive, a folder will be created in your Drive named 'Teamleader'. This is the folder that is linked to your Teamleader account. The synchronisation has no effect on other folders in your Google Drive. Every company you sync with in Teamleader will appear in this folder with the related company name.


It is best to use the link with Google Drive individually: if your colleagues also want to use the Google Drive link, it is advised they use their own Google Apps account to Teamleader. One remark: special files such as Google Docs and Google spreadsheets will not be automatically synced to Teamleader, since these aren't actual files. To get these in Teamleader anyway, you can export them to PDF, for example.


Teamleader to Google Drive
If you choose to synchronise with Google Drive, all the files and (sub)folders will be added to the Google Drive folder 'Teamlader' > 'Companies' > 'Company name'. When adding files to that company in Teamleader later on, these will automatically be synchronised to the related Google Drive folder.

When synchronising with Google Drive without any files attached to a company, only an empty folder will be created in your Drive using the company name.


Google Drive to Teamleader
The Google Drive link also works in the opposite direction. If you have synced a company to Google Drive, you can also upload files to Teamleader using Google Drive. These files will automatically be synchronised to Teamleader every thirty minutes. The same story goes for subfolders: when creating a subfolder in Google Drive, the folder will also be created in Teamleader.