Articles
Good lead follow-up is key, there's no avoiding it. But how do you follow up all those leads that visit your website? You can do it with the Web2Lead forms in Teamleader. Teamleader works with three different services to do this. In this blog we discuss how to create landing pages with Unbounce and how to link them with Teamleader.
Unbounce
Unbounce is slightly different from the other Web2Lead packages in the sense that it is a rather extensive service. There is no free version of the package available either, although you can test it for 30 days with no obligation. Another big difference is that you don't make simple forms with Unbounce, but you can immediately make nice, elaborate landing pages with it. You make a page with Unbounce as follows:

After creating your (demo) account you will see the following screen.
Obviously you don't have a landing page yet but you will be invited to create a first one using the button on the left, which says 'Create new page'.
Click on this and you will immediately see a number of ready-to-use templates from which you can choose. Obviously you can put your own design onto an empty page, if you prefer. Give your template a name (in our case it's Teamleader Web2Lead), and you can start.
If you're using a template there's a big chance that there is already at least one field on it. If you want to add more fields you can double click on them. In the pop-up menu that appears you will find all the possible fill-in fields that can be added to the form. As with Wufoo and Formstack it is best to use single line text fields so that, for example, you can split First name and Surname. Make sure you give the fields names that Teamleader can recognize. Check the list below this article.
Once you are satisfied with the page you have created it is time to link it to Teamleader. For that you need the WebHook link that Teamleader offers. In Teamleader, go to Integrations/Marketplace and select Web2Leads. If you're adding a new form you select Unbounce, of course. Copy the link that appears in the blue box. This link is unique to your Teamleader account, so don't use the example below.
In Unbounce go to the overview of all your forms and click on the form you want to link to Teamleader. Below right you have a box with 'Basic Form Integrations'. Here you select your WebHook and paste the link you have copied from Teamleader into the field provided.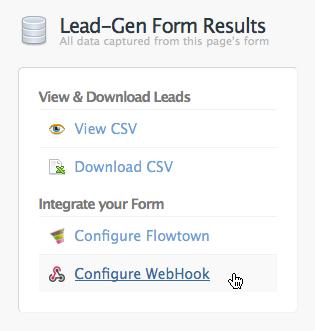 If Teamleader shows an error message when you enter the Web2Leads link, it is possible that Unbounce is not following the correct rules for exporting your fields. In that case you must try 'Field Mapping'. You do this too when you want to edit your WebHook.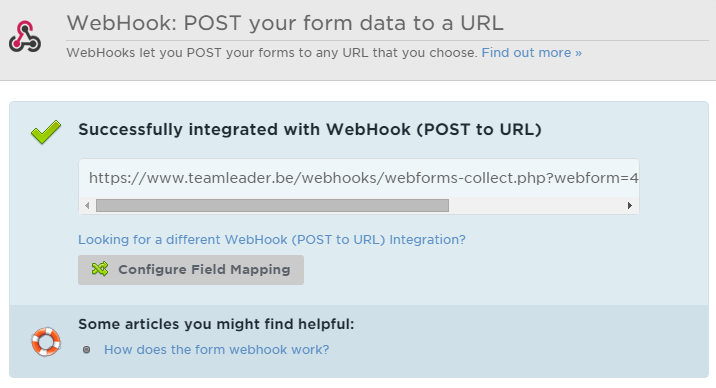 Here you can make sure that all the fields you use are linked to the correct name. It is best to set any fields in the form that you don't use as 'Not mapped'. Click on 'Done' when you are ready and you can start sending your leads through to your Teamleader account!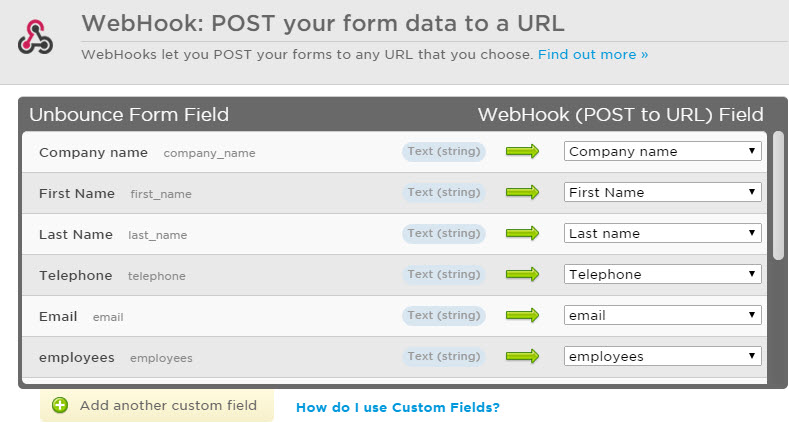 Allowed fields
On this page you will find a list of all the possible fields that Teamleader can import from your form. Make sure that you use at least one of those styles, otherwise your data will not be imported into Teamleader correctly.