Articles
Good lead follow-up is key, there's no avoiding it. But how do you follow up all those leads that visit your website? The trick is to do it with the Web2Lead forms in Teamleader. Teamleader collaborates with three different services for this purpose. In this blog we discuss how you make forms with Wufoo and how to link them to Teamleader.


Web2Lead forms
You can set up the Web2Lead forms in Teamleader through 'Integrations/Marketplace'. There you select the option 'Web2Leads'. In the screen that appears click on 'Link new forms'. Here you can choose the provider that you want to use to create the form. We'll take you through the process step by step.


Wufoo
Wufoo allows you to choose between a paying and a free account. With the free account you're limited to three forms, but you can create a decent web form with it and it's child's play.




When you create a new form in Wufoo a screen appears with a number of fields that you can put in your form. On the right you can see a preview with all the fields you have used so far. NB the names you choose must comply with the variables Teamleader
recognizes. You can find the list of variables at the bottom of this blog. It is best to choose a single line text field for First Name and Surname. In Wufoo the 'Name' field cannot be split into two fields.



When your form is more or less set up as you want it, click on 'Save'. Then you can return to the 'Form Manager' page with the overview of all your forms. All you need to do now is to set up your Webhook. Click on the form you've just created and then on the 'Notifications' button that appears below it. Under 'Notifications' you can choose what happens to the info that customers leave. For example, you can have it sent to your email address or your smartphone. To set up your Webhook you choose 'to Another Application' and there you select 'Webhook'. Now click on 'Add Integration'.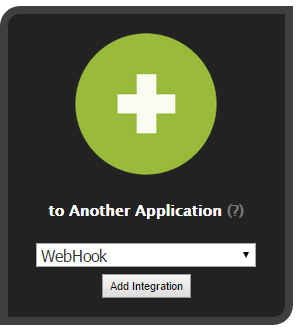 In the new box you need to enter your Webhook URL. To find it go to 'Web2Leads' under 'Marketplace' in Teamleader. When you're creating or editing a web form you will always see a 'Webhook URL for integration'. This is a unique URL specifically for your account, so don't use the URL you see below. Copy the whole link from Teamleader and paste it into Wufoo.


You can skip the Handshake Key, but make sure you check 'Include Field and Form Structures with Entry Data'! Otherwise your web form will keep causing an error.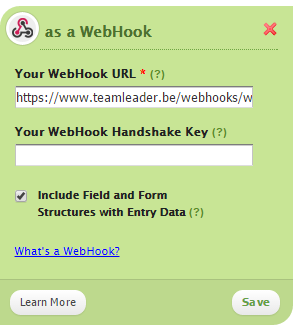 Click 'Save', then your Webhook is ready! Now all you need to do is to put your form on your website and your leads will go straight into Teamleader!


Fields allowed
On this page you will find a list of all the possible fields that Teamleader can integrate from your form. Be sure to use one of those styles, otherwise your data will not be integrated into Teamleader correctly.